Exposition "Glorieuses années 1960 ?!"
Exhibition
Sports and recreation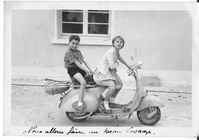 From Sunday
02
May
to 3 October 2021
Address

salle des fêtes

place de la fontaine

46160 Saint-Chels
L'écomusée de Cuzals vous propose une exposition sur les Glorieuses années 1960 ?!

Les années 1960 représentent une période de transformations et d'optimisme, une sorte d'apogée des « Trente Glorieuses ». Qu'apporte la modernisation et comment est-elle vécue ? c'est ce que vous allez découvrir en parcourant cette exposition !

Questionner la modernité dans le Lot au tournant des années 1960, c'est questionner le changement : agriculture et vie rurale, vie domestique, moyens de communication, loisirs, etc. L'exposition explore les différents signes d'une époque, tout en en restituant l'ambiance et les couleurs au travers d'une scénographie d'objets, de documents d'époque, de supports visuels et sonores. Un parcours immersif pour interroger le monde moderne tel qu'il advient.
| Prices | Min | Max | Description |
| --- | --- | --- | --- |
| Adult | 5.00 € | / | |
| Reduce rate | 2.50 € | / | |
| Free | / | / | |