Jeu coopératif - Destination Territoire à Energie POSitive!
Encounters
The Causseries
The Causseries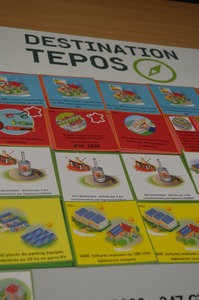 Address

rdv salle des associations

46160 Cajarc
Venez inventer le futur énergétique du territoire ! Autour de ce jeu coopératif, vous et votre groupe allez décider ensemble comment réduire nos consommations et quelles énergies renouvelables vous souhaitez développer. Le but ? Couvrir nos besoins en chaleur et en électricité par les énergies renouvelables : destination territoire à énergie positive !
Par groupe de 5 à 6 personnes, il va falloir vous mettre d'accord pour inventer un futur commun. Dans quels secteurs pouvons-nous économiser le plus d'énergie et comment ? Quelles sources d'énergies sont les plus pertinentes sur le territoire ? Partagez votre avis avec vos partenaires de jeu pour avancer ensemble.
Fort de votre expertise, le Parc et les Communautés de communes du Causse de Labastide-Murat et du Pays de
Lalbenque Limogne élaboreront la stratégie énergétique de leur Plan Climat. Plus qu'un jeu, vous participerez activement à la construction du futur des Causses du Quercy. Soyez moteur de la transition énergétique sur votre territoire !
| Prices | Min | Max | Description |
| --- | --- | --- | --- |
| Free | / | / | |